Yoga Teacher Training in Goa
Ekant Yoga School India offers a compact 200 hours yoga teacher training in Goa where you can learn the secrets of yoga and sharpen your skills with the intense practice of a wide range of yoga poses. And after successfully completing our 200 hours yoga teacher training in India, you are certified with the U.S yoga alliance and you can start your own international yoga teaching center. Our yoga training program is intended for the young yoga aspirants who are looking for a comprehensive knowledge of different forms of yoga including; Asana, Hatha, Pranayama, Kriyas, and many more. The highly effective yoga course of our program incorporates physicality, healing, and meditation. It brings stability to your body and helps you focus your mental energy. Get on board with the amazing yoga program of Ekant Yoga School to transform your life and be an inspiration for others.
Objectives of Our 200 Hours Yoga Teacher Training in Goa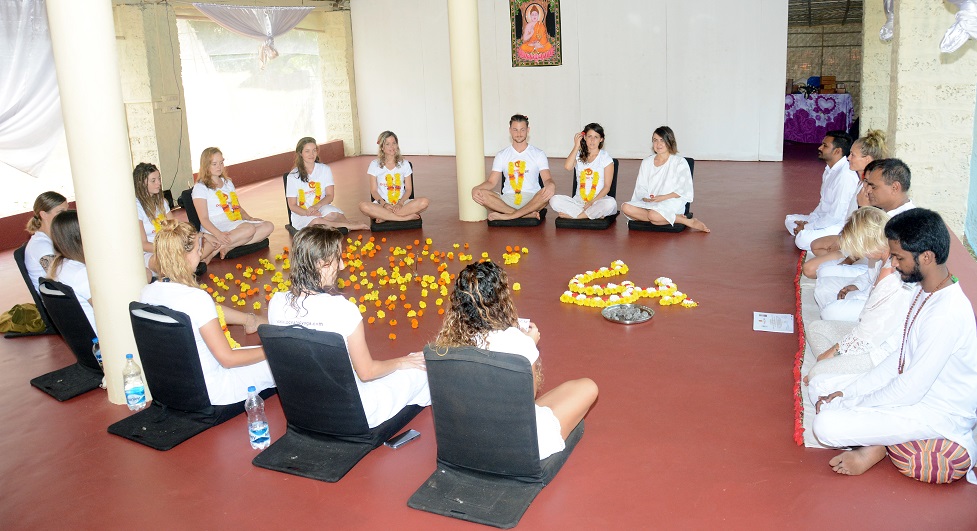 Teaching Yoga in Goa is highly competitive as it is a part of Indian culture. Ekant Yoga School takes pride to be a pioneer institute with loads and loads of teaching experience. The objectives of our 200 hours yoga teacher training program include:
A well-rounded knowledge of yoga.
Daily practice of over 60 different yoga poses.
Continuous practice and evaluation until you have grasped the perfect alignment.
Incorporation of yoga principles to acquire a healthy
Helping our students develop their own unique voice.
Building confidence in our student to be a future yoga trainer.
Certification with Yoga Alliance USA
Why choose Ekant Yoga Teacher Training in Goa?
Ekant yoga teacher training program endeavors to deliver beyond the imagination of the young aspirants of yoga. We recognize your abilities and enlighten you with the true essence and wisdom of yoga. We make sure that you have a comprehensive knowledge of yoga in a limited time and stay motivated. That's why every year a lot of our students come back looking for even deeper immersion.
The Course of Our 200 Hours Yoga Teacher Training Program
We aim for quality yoga teacher training course where you can discover the deep secrets of yoga and utilize it in your daily routine. Here are some highlights of our program:
How to teach a yoga pose
Proper alignment
Anatomy and physiology as it relates to yoga
Purpose and use of props
Observing and understanding bodies
When and how to modify yoga poses
How or whether to touch students and when to use adjustments
Learn the three main teaching methods: verbal (audio), visual, and physical (kinetic)
Mantra Chanting
Yoga Poses
Hatha Yoga Style
Vinyasa Flow Sequence
Restorative poses
Pranayama
Shatkarma
Mudra & Bandha's
5 Kosha's & Prana's
Nadi's
Yoga Philosophy:- Introduction to the History of Yoga
Seven Chakra's & Kundalini Energy
Anatomy & Physiology
Meditation & Breathing
Art of Yoga teaching
Evaluation – We have regular evaluation sessions to make sure that you have fully grasped all the knowledge we are empowering you with.
Here is why Ekant Yoga School is a Better option for Yoga in Goa
We help you understand the practical application of yoga principles in your daily life. And help you achieve your health goals.
We help you develop your teaching ability and gain confidence to be an inspiration for others.
Yoga chants and seminal texts to revamp your spirit.
Breathing exercise and meditation to give your body and mind a relaxation period.
Safe and friendly environment to learn peacefully.
Open-minded students and helpful
Best accommodation in Goa.
Daily Vegetarian & vegan diet to complement your training.
Natural landscapes and spiritual closeness.
Free WiFi.
Flexible training hours to help you manage your daily routine.
Trainees may register with Yoga Alliance at its RYT-200 level upon successful completion of this training. We ensure the quality of our yoga teacher training program by providing personalized guidance with the lead teacher to a small group of students.
| Dates | Yoga Style | Fees | Availability |
| --- | --- | --- | --- |
| 6 October – 28 October 2023 | Hatha & Vinyasa Flow | € 1499 | Running |
| 2 November – 24 November 2023 | Hatha & Vinyasa Flow | € 1499 | Book Now |
| 27 November – 19 December 2023 | Hatha & Vinyasa Flow | € 1499 | Book Now |
| 6 January – 28 January 2024 | Hatha & Vinyasa Flow | € 1499 | Book Now |
| 4 February – 26 February 2024 | Hatha & Vinyasa Flow | € 1499 | Book Now |
| 4 March – 26 March 2024 | Hatha & Vinyasa Flow | € 1499 | Book Now |
Daily Schedule Sample
7:00 to 7:30 – Pranamaya/Meditation/Chanting

7:30 to 9:00 – Asana Practice

9:00 to 10:00 – Breakfast

10:00 to 11:45 am – Art of Teaching/Adjustment & Alignment

11:45 to 1:00 pm– Yoga Philosophy/Theory

1:00 to 2:00 pm–Lunch

2:30 to 4:00 pm–Anatomy/Physiology

4:00 to 5:45 pm–Asana practice/Teaching Asanas

6:00 to 7:00 pm — Meditation
Sunday Off
It is a sample Schedule, Subjects Change every week
What's included in the fees?
Pick up from Dabolim airport, major train, bus stations or any hotel in Goa

Training Fees

Accommodation (Private) with attached bath

Daily 3 Meals/day

Teacher Training Manual

Free Wifi available

200 Hrs YTTC Certificate Yoga Alliance accredited