5 Days Yoga Retreat in Goa India
Repeating the same activities in daily routine life makes an individual irritated and frustrated as they get bored with the tedious tasks. Some people do not have time for meditation and yoga in daily routine activities because of hectic and busy schedules. In such circumstances, Yoga retreat in Goa is good opportunities to detach yourself from everyone, including family, children, and society. At Ekant Yoga, yogis conduct different exercises and yoga as per the level.
Take a break from monotonous activities and rejuvenate yourself with Ekant Yoga for 5 Days Yoga Retreat in Goa at your convenience.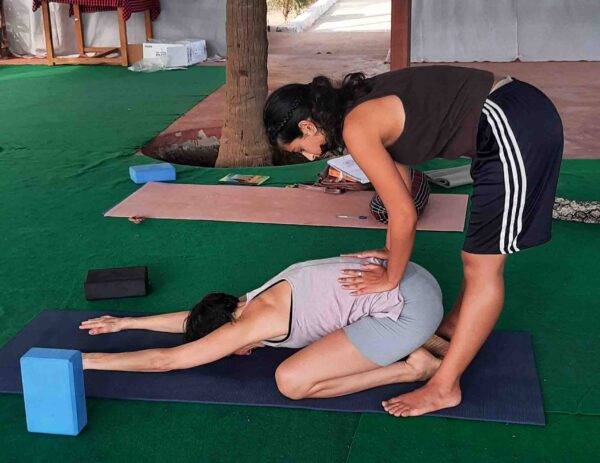 Furthermore, such retreats allow individuals to connect with spirituality, as it becomes necessary in changing habits and patterns. You can experience the peace of mind and heart to keep calm and unwind.
Ekant Yoga has well-trained teachers who help visitors perform different types of Yoga, including meditation, vinyasa flow, Hatha, and Yin Yoga. Rooms are available at the Yoga Center, where you can stay and spend your vacation. It is indeed a fact that yoga and meditation are the best activities that connect you with yourself and your soul. Regular practicing of yoga and meditation has proven to be effective for a healthy and happy life. Join our 5 days Yoga Retreat program in Goa.
You can join the peaceful program at Ekant Yoga in Goa, where you can spend a peaceful vacation in the middle of nature as trees and plants surround it. Continuous pranayama, meditation, and yoga retreats for 5 days enable you to clutter all negative thoughts from the mind, offer calmness, improve concentration, and relax your body & mind.
Yoga Retreat is meant for breaking habits, whether connected with a bad lifestyle, poor eating habits, overthinking, or not following a proper sleeping cycle. At the Yoga Retreat center, you must follow a proper routine that is the same for everyone. With the power of Ayurveda, you will get to adopt habits that are best for your body. During the retreat program, your body is more connected with nature, and you will get healthy food.
If you are excited to learn and want to explore something new than a regular vacation, try a yoga retreat once in your lifetime. Furthermore, it offers you ample opportunities to get healthy and fit, including taking care of your body and mind, connecting with nature, and immersing in the beauty of nature.
Daily schedule sample from Monday to Saturday
7:00 to 7:30 – Pranayama/Meditation

7:30 to 9:00 – Asana Practice

9:00 to 10:00 – Breakfast

11:30 to 12:30 pm — Meditation

1:00 to 2:00 pm– Lunch

3:00 to 4:00pm – Philosophy/Workshop

4:30 to 6:00 pm– Asana practice

7:00 to 8:00 pm – Dinner
*Schedule subject to change. All times are approximate
What Facilities Will You Get in Yoga Retreat Program
4 Nights of Luxurious Accommodations with attached bath, AC Room and Private balcony

Free Internet

Daily 2 Yoga Classes

Daily Meditation Classes

Daily Workshops/Philosophy

Daily 3 Delicious Meals/day
Airport Transfer is available, on additional cost. Pre-Booking is mandatory.