Yoga Retreat in Goa India
Are you frazzled from the daily churning of city life and desperately seeking a break? Well, you've reached the right place. Our list of featured yoga retreats in Goa brings to you some of the most amazing retreats in the 'Land of Smiles'. From yoga to meditation to pranayama sessions to Ayurvedic Treatment to outdoor activities to healthy nutrition, these retreats bring to you an assortment of wellness options to bring your body, spirit and mind back into balance. Set along stunning natural surroundings, the retreats are an ideal choice for those who seek inner peace, spiritual enlightenment and of course, a healthy body. Search from a range of yoga retreat programs in Goa, India and gift yourself an experience like never before!
Goa, the party capital of India, is undoubtedly one of the most happening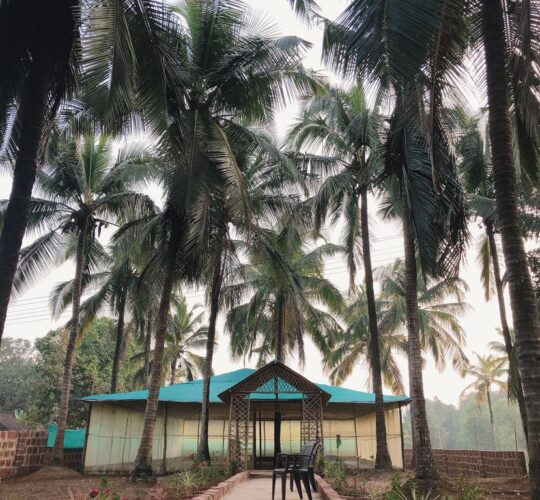 places in the country. People from all around the country and the world come to visit this place in huge numbers every year. But Goa has much more to offer than just a party destination. Do you want to go for a peaceful vacation in which you want to replenish your Zen? Do you want to have a deeper study of Yoga? Then Goa is the best place to do so. Getting into a Yoga Retreats in Goa gives you a nice experience amidst the scenic and peaceful beauty of this region. Goa is most visited by tourists from all over the world between October to May which is the best time to visit Goa and the yoga schools operate their courses in between these months. So are you planning to go on a spiritual journey to Goa? Do you want to recharge yourself? But can't decide which one is the best option for you? Then let us help you out.
The northern part of Goa is considered to be the most famous among the tourist. It offers a nice blend of party places and beaches along with calm and scenic beauty perfect for yoga and meditation. Tucked in this exciting place is Mandrem Beach which is not like the other beaches of the region. You will not be able to find the hustle-bustle of the city or the loud music in here, instead, you will be able to enjoy a panoramic view of the Arabian Sea and rejuvenate your soul. Beside this aesthetic sea beach, you will be able to find Ekant Yoga, one of the unique Yoga Retreats in Goa. This unique yet minimalistic Yoga Retreat ashram focuses on giving the students the view of a simple livelihood that can bring in the desired peace and stress-free life that we all desire. Here the travellers are taught about the various types of Yoga by the most joyous Yoga gurus at a budget-friendly rate.
Ekant Yoga unlike any other Yoga Retreats in Goa has a unique yoga program that focuses on deepening your yoga practice and achieving the perfect pose by listening to the sound of nature. The programs focus on several yoga types, meditation and philosophy sessions. At Ekant Yoga Retreat in Goa, you will get the guidance of some of the most experienced Yoga teachers of the country who with their years of experience and high profile yoga education and practice can help you to reach your target in a very short time. You also need to have a group of like-minded people to achieve the spirituality which you desire. At Ekant Yoga you will meet some of the most exciting people with whom you can chat and discuss and learn further techniques of Yoga. We offer classes in hatha yoga, Vinyasa Flow Yoga, Yin Yoga, meditation and more. There are onsite rooms where one can stay and indulge in a yoga practice of 5 days, 7 days, 14 days whichever they may find suitable. With us, you can get spectacular accommodations, organic Indian food and last but not the least, the panoramic view of the Arabian Sea.
So if you are planning to take that Yoga Vacation you have been planning for a while but felt clueless about who should you ask for help, and had difficulties to make up your mind about which option is the perfect choice for you, Ekant Yoga is the place to be. So the next time you head to Goa for a spiritual Yoga Vacation, be sure to drop into our adobe to have a wonderful and unforgettable experience of replenishing yourself.
Daily schedule sample from Monday to Saturday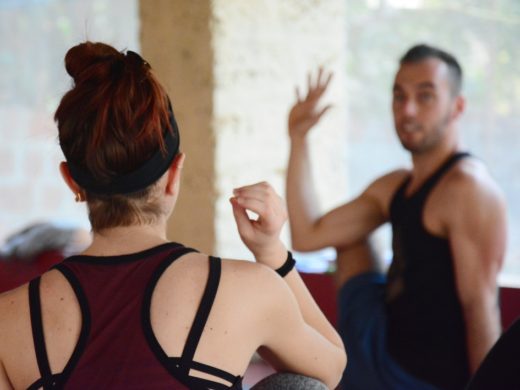 7:00 to 7:30 – Pranayama/Meditation/Chanting
7:30 to 9:00 – Asana Practice
9:00 to 10:00 – Breakfast
11:00 to 12:00 pm– Workshop/Philosophy
1:00 to 2:00 pm– Lunch
4:00 to 5:30 pm– Asana practice
6:00 to 7:00 pm — Meditation
7:00 to 8:00 pm – Dinner
Sunday Off
Airport Transfer is available, on additional cost. Pre-Booking is mandatory. 
2 Weeks Beginner Yoga Retreat
€ 899
Daily Practicing different Types of yoga

Daily meditations

Daily pranayama

Daily Philosophy

Chanting Mantras

Daily workshop on asana

One-to-one Consultations

Private AC room with attached Bathroom

Vegetarian food 3 meals per day

Pick Up included in the fees from the airport or station within Goa

Accessibility of Free Internet
2 Weeks Intensive Yoga Retreat
€ 899
Daily Practicing different Types of yoga

Daily meditations

Daily pranayama

Daily Philosophy

Chanting Mantras

Daily workshop on asana

One-to-one Consultations

Private AC room with attached Bathroom

Vegetarian food 3 meals per day

Pick Up included in the fees from the airport or station within Goa

Accessibility of Free Internet