Beginner Yoga Retreat in India
Ekant Yoga offer Beginner Yoga Retreat in Goa India for beginner peoples who wants to start their new yoga journey. Yoga originates from India, so there could not be a better place than India to learn and practice yoga. There are thousands of reasons to consider yoga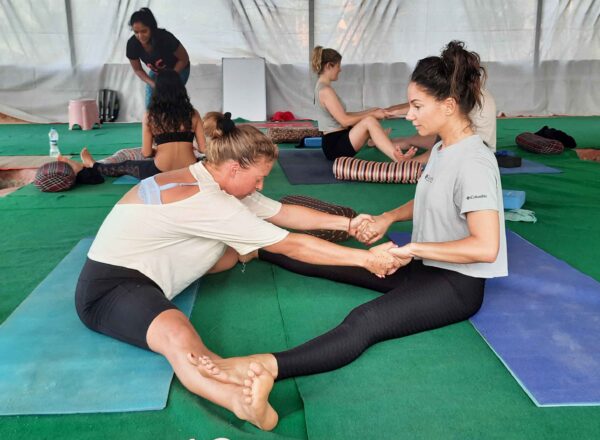 retreats are the better opportunities to immerse yourself in yoga training.
Ekant Yoga's well-qualified teachers conduct Yoga Classes for Beginners and they get a chance to learn different yoga asanas, which include hatha yoga, Vinyasa Flow Yoga, Yin Yoga, meditation, and more. Other than yoga, the qualified teachers will also focus on pranayama and meditation, as these techniques help beginners enhance their concentration level. Instead of using mobile phones at home, novice participants get a chance to see the beauty of nature.
Yogic tradition relies on Sattvic food as Ekant Yoga takes extra care in preparing food that should be pure, nutritious, and healthy. Being a known retreat center in Goa, we always cater healthy or nutritious food, which helps to maintain energy levels among students so they can do yoga practice carefully. Our Yoga Retreat Centre use fresh vegetables and fruits. Furthermore, nutritious and healthy food also plays an important role in keeping the mind calm, polite, and healthy. The sattvic food helps various students to take their yoga journey to the next, i.e., the spiritual level.
If you cannot spend many days in yoga retreat centre, 5 day yoga retreat is ideal for beginners to indulge in yoga for the first time in India. Later, you can extend your period from 5 to 7 days at your convenience or flexibility.
2 Weeks Beginner Yoga Retreat Fees
Upcoming Beginner Yoga Retreat Dates:
3 September to 16 September 2023
1 October to 14 October 2023
1 November to 14 November 2023
3 December to 16 December 2023
3 January to 16 January 2024
1 February to 14 February 2024
3 March to 16 March 2024
1 April to 14 April 2024
1 May to 14 May 2024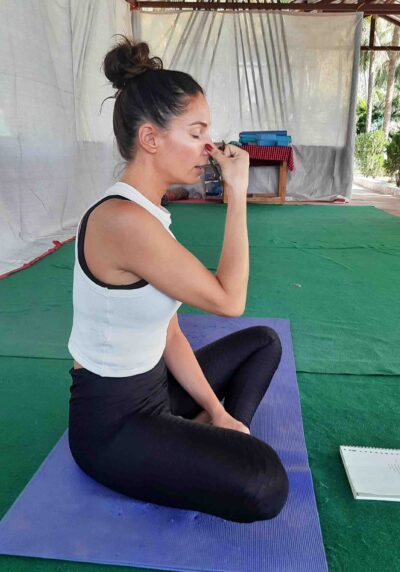 Daily schedule sample from Monday to Saturday
7:00 to 7:30 – Pranayama/Meditation

7:30 to 9:00 – Asana Practice

9:00 to 10:00 – Breakfast

10:30 to 11:30 pm– Workshop

11:30 to 12:30 pm — Meditation

1:00 to 2:00 pm– Lunch

3:00 to 4:00pm – Philosophy

4:30 to 6:00 pm– Asana practice

7:00 to 8:00 pm – Dinner

Holidays are only on Sundays as we will give freedom to participants to explore the area, or they can go anywhere as per their preference.
*Schedule subject to change. All times are approximate
What Facilities Will You Get in Yoga Retreat Program
Daily Practicing different Types of yoga

Daily meditations

Daily pranayama

Daily Philosophy

Chanting Mantras

Daily workshop on asana

One-to-one Consultations

Private AC room with attached Bathroom

Vegetarian food 3 meals per day

Pick Up included in the fees from the airport or station within Goa

Accessibility of Free Internet